Offer Details
get 2for1 offers at top attractions when you travel with us
DreamWorks Tours, Shrek's Adventure! London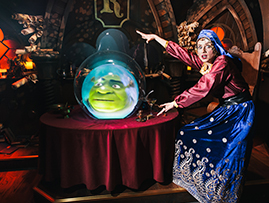 **Before you book your ticket, check the full Days Out Guide travel advice here**

*To adhere to social distancing measures in place, guests can only pre-book their tickets online to guarantee entry to attractions. We currently cannot offer walk–up on the day vouchers*

*Exclusions: Every Friday, Saturday and Sunday in August and 25 - 31 December 2021*

2FOR1 Admission: £30  (Price subject to change)*
Following the launch of the hotly anticipated movie release of How to Train Your Dragon: The Hidden World, budding Dragon trainers will have the chance to come face to face with the new dragon, Light Fury, exclusively at Shrek's Adventure!
Find your way through the portal to the island of Berk to a luminous dragon utopia, and the only place in the UK you can see the heroic characters from How to Train Your Dragon: The Hidden World. Make your way through mysterious cave where you'll find the legendary Light Fury joined by everyone's favourite dragon Toothless, as well as the Viking Chief of Berk, Hiccup.

The journey begins when you board the DreamWorks Tours magical flying 4D bus to Far Far Away. There you will visit Cinderella in Shrek's swamp, bump into Puss in Boots, rescue Pinocchio from the wheel of torture and cook up a magic spell with the Muffin Man. But don't forget to collect the special ingredients that you will need in order to find Shrek and make it back home safely!

Head to Shrek's Adventure! London and FIND YOUR BEAT at the NEW Trolls World Tour experience! Play, Dance and Pose your way through this musical family adventure, the only place to celebrate the launch of the show-stopping NEW Trolls World Tour film with your favourite characters!

To be safely admitted into the attraction, employees and guests are asked to participate in a temperature check using a non-contact thermometer. These non-invasive temperature checks are being applied as a condition of entry.

Anyone who is displaying a temperature above 37.8 degrees Celsius will unfortunately not be allowed to enter. Visitors with certain health conditions and disabilities related to higher bodily temperatures should speak to the attraction team upon booking to ensure we can provide the correct assistance on an individual basis.

Those showing COVID-19 symptoms are also requested not to visit the attraction. We are asking all our guests to play their part in helping to protect themselves and each other.

For full Merlin T&Cs please check here.