Offer Details
get 2for1 offers at top attractions when you travel with us
The London Dungeon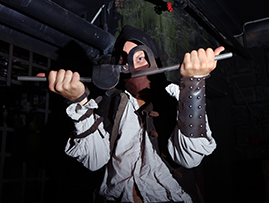 **Before you book your ticket, check the full Days Out Guide travel advice here**

*To adhere to social distancing measures in place, guests can only pre-book their tickets online to guarantee entry to attractions. We currently cannot offer walk–up on the day vouchers*

*The London Dungeon is open from 10.00-16.00 Friday to Wednesday and 11.00-16.00 on a Thursday.  All times are subject to change. Please check the attraction website before travelling.*

2FOR1 Admission: £30 (Price subject to change)*

Exclusions: 22-23 & 29-31 October 2021.

Online advanced bookings now available!

The London Dungeon is a uniquely thrilling attraction that will whisk you way back to the capital's most perilous past. See, hear, feel and (ahem!) smell the chillingly amusing characters of the 'bad old days' as they come to life before you. Will the 19 live shows and 2 thrilling underground rides claim you? Whichever way, it's not looking good for your underwear!

To be safely admitted into the attraction, employees and guests are asked to participate in a temperature check using a non-contact thermometer. These non-invasive temperature checks are being applied as a condition of entry.

Anyone who is displaying a temperature above 37.8 degrees Celsius will unfortunately not be allowed to enter. Visitors with certain health conditions and disabilities related to higher bodily temperatures should speak to the attraction team upon booking to ensure we can provide the correct assistance on an individual basis.

Those showing COVID-19 symptoms are also requested not to visit the attraction. We are asking all our guests to play their part in helping to protect themselves and each other.

Image Credit: Press Association

For full Merlin T&Cs please check here.